'That's Whack'- Conspiracy theory, party card game.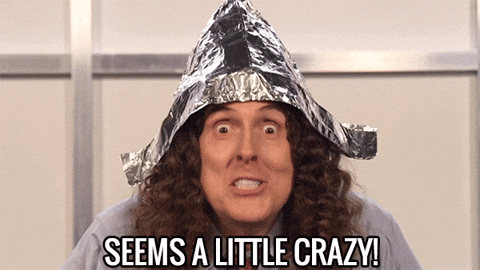 Together with my group members Julia, Anthea & Lani, the four of us will be focusing on a party card game that focuses on the central theme of conspiracy theories. 
Once we were put into our groups, my fellow group member Anthea suggested that we could ideate something to do with conspiracy theories. Then I suggested to the rest of the group why not create a fun, party-styled game, like Cards against humanity but make it all about Conspiracy theories and the biggest faux's the world has heard of/witnessed, something that is truly whack! 
From there, the name, 'That's Whack!' was built and we now have a rough draft of what exactly our game will entail. From here on it's a matter of taking on the feedback that was given by Chris & Richard in the previous BCM300 Seminar and allowing it to structure our game accordingly and follow up on our exact game world, mechanics and emergent narrative.
"That's Whack" will be a game that tests individuals on how insane, whacky, crazy and creative they can be, with the game revolving around 'The Master Conspiracist'. Whom wears a tinfoil hat and navigates each round in sequential order deciding who comes up with the craziest 'clickbait conspiracy' in the YouTube Blogger world.
---
Game Plan:
 
After receiving this feedback, the group had another chat altogether on the 24th of April after the seminar, discussing how our game world/narrative could focus on the 'YouTuber Conspiracy bloggers'. How each player would be striking towards the most click bate worthy headline/crazy conspiracy. This seemed to fit, as this game was inspired by the YouTube conspiracy King, Mr Shane Dawson. In saying so, 'The Master Conspiracist' will be in charge of deciding which conspiracies are the most whack, as that is the whole narrative and theme of the game. We also want to implement a pyramid ranking scheme to keep track of players wins and transitions, another aspect that would work well in the graphic design element of conspiracy theories, along with our idea to create green/silver looking cards. This is all up to discussion, ideation and iteration before our final presentation, where we could show examples of what our game design will actually look like.
But indeed the purpose of this game will be for players to delve into their crazy side, much like cards against humanity, yet much more whacky, wild and mysterious. A chance for players to escape the current stresses in life with this pandemic and create some more fictional chaos that could lighten their mood and result in some wild discussions, opinions and thoughts.
---
Group Contribution: 
Since there are four members in our group, we thought it would be best to divide our presentation into 4 main sections with each one of us focusing on each:
Genre/comparable products in the market- myself 

Mechanics- Julia May

Rules & game loop – Lani

Narrative & story – Anthea 
We plan on creating a PowerPoint presentation with each one of our parts lasting from at least 3-5min during the presentation. As well as each one of us speaking during our introduction and conclusion to establish our overall game.
Since I'll be focusing on our game genre and comparable products in the markets, it's my role to research and discuss the world of party games, and any conspiracy games that exist out there, such as any comparable products that exist in the market. I'll also be researching and discovering these games and their different aspects in terms of price, marketing, publishers and developers. Which will help decide what exactly our group plans to establish in terms of our game audience and who would purchase it for how much, if it were a real product? 
The Week 2 Lecture on Game Definitions, Genres and Industries will become part of my research and discussion, as well as Week 9 lecture on Crowdfunding: Production, Publication, Distribution and Retail. I've also used the Board Game Geek website to help me identify some existing products, already finding two comparable products in the card game market:

Conspiracy Theory- Steve Jackson Games: A game which I only discovered upon writing this blog. In hindsight, the game is quite similar to 'It's Whack', as it follows the same card game theme and mechanics. But unlike 'Conspiracy Theory', our game will simply be inspired by its genre, as our rules and gameplay will differ from 'judging which conspiracy is the truth'. The game world/narrative will also be a differing aspect as we plan to link 'It's Whack' to the world of YouTube conspiracy bloggers and their clickbait nature, setting the two games apart.

Entrepreneur Catherine Herdlick has built her own games that have become company-like entities, and she mentions "When you are a game designer, you are in control of a fairly closed system. You are designing the rules, and you are creating an experience."  (2019). And that is precisely what our group plans to do, create an experience for game players, more than it's label as a party game. The party genre is something that will allow our game to become a form of escapism and fun for users, being able to say, command and get creative without any right or wrong answer, creativeness and wackiness becoming the winners. 
Since the game will be designed directly towards millennials, in my research, I will also consider discussing this so-called revival of card games in this last decade, thanks to millennials and their new aching outside the digital environment. As something that was typically associated with the elderly has made a comeback, where traditional card games (and not-so-traditional ones like Cards Against Humanity) are deemed more popular (2019).
After a simple google search, this area seems very diverse and relevant, so it is definitely something I'll discuss in the presentation. From different news sources discussing this so-called 'revival' and 'come back' to Reddit discussions, it will be vital to consider how our game idea will stand out in this current millennial market. As card games are now almost considered an essential item for groups of young individuals during parties, hangouts and especially this pandemic, as users are seeking for more fun experiences in their households that range out from their computer screens. 

It's also interesting to consider where individuals are now purchasing these games, as I've noticed sites like Amazon being the leaders, but also physical retail destinations like Target, Big W, General Pants and your in-store tobacco shops. These are all aspects I will plan on discussing in the presentation in terms of genre and comparable products in the market.
---
The end game:
Once myself and the other group members have gathered our individual sources accordingly, we plan on writing up our own scripts for each part as well creating our personal presentation for those parts. Once we have all done that we plan on putting each of our slides into a final Google slide, so we can devise, make any changes, and allow the whole presentation to flow through a final script which we will read of during our live presentation in Week 11. 
---
Group Members Blogs:
Anthea:
https://antslifedotblog.wordpress.com/2020/05/08/creating-our-game-thats-whack/
Julia-May:
https://jmayfarrington.com/2020/05/09/group-game-pitch-contribution/
Lani:
https://lanisabloggernow.home.blog/2020/05/07/cards-against-humanity-but-for-alex-jones/?fbclid=IwAR1OFfZknOaUQDT7nNde7vf5mrPoPXBzOvehiciqmSVrOWgUnI-g7r7V-o4